October 30, 2012
Hi,
Tomorrow is Halloween. In the kindergarten of my little one, they have been diligently making little pumpkin lanterns and costumes for themselves. It's a nice tradition, even though I really don't like the whole sweets eating thing. We always have candy for months to come. Anyhow I wish you a very pleasant Halloween party tomorrow. Go out and have fun!
When you wake up on 1st November, the stores will already have changed their decorations to Christmas. Maybe you're not in the mood yet, but I want to present you with some great ideas for Christmas crepes.
Recipe of the Month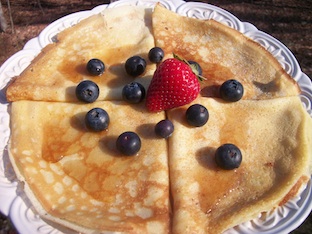 The featured recipe of the month is a Leftover Eggnog Crepe. This is an adult only crepe recipe, as the eggnog contains plenty of alcohol! Once you've made the batter, you can chose whatever topping you like. But we recommend to use only a teaspoon of sugar or some fresh fruits.
Ok, I know it's a bit early, but I like to do my Christmas shopping way before the masses crowd the stores. Here's a great idea for Crepe lovers:
A De Buyer Crepe Pan. This is the one Ashley uses to make her award-winning recipes. Find all the information in the Crepe Pan Review on our website.
Essential Guide to Crepes
The Ebook Essential Guide to Crepes by Ashley Memory is probably the best book on How to Make Crepes.
Apart from giving detailed step-by-step instructions with photos on how to make world class crepes, it gives you ideas and strategies for throwing an unforgettable crepe party that will give you lasting fame amongst your friends, and some of the best-kept secret crepe recipes that you won't find anywhere else on the internet or offline.
Don't hesitate and grab your copy of the Essential Guide to Crepes now. You won't regret it!
_________________________________
We hope you enjoyed this edition of The Crepe Vine as much as we enjoyed sending it to you. As always, please continue to send us your feedback because it helps us improve future issues. You may drop us a line by replying to this email.
Best Wishes
Marion + Tobi