June 18, 2013
Hi,
For the first time this year it's hot, and I mean really, really hot. In my office there are above 30°C/90°F. Luckily I can go downstairs and sit at the kitchen table, where it's much cooler.
Because it's so hot, nobody even thinks of eating something warm. I decided to go for a great salad with lettuce and strawberries and a light dessert crepe.
You find the recipes below. Enjoy!
Recipe of the Month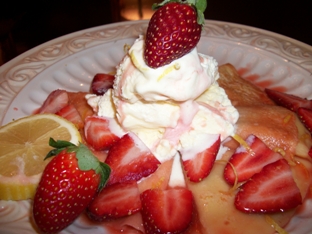 June is the month of strawberries! Eat them as fresh as possible, because organic berries will last for a maximum of 1-2 days. You can extend this to maybe 3 days in the fridge, but make sure to take them out at least 1 hour before eating. They need this "warm up" in order to give the full flavor.
If your store-bought strawberries still look good after a week in the fridge, throw them away. This means they must have had more than their fair share of pesticides, conservatives and other things the big companies use to make our food look better.
Crepes Suzette with Strawberries This is a variation of the famous Crepe Suzette and a wonderful dessert.
A very easy recipe with whipped cream and strawberries: Strawberry Crepes with Whipped Cream and Strawberry Sauce .
_________________________________
Please follow us on Facebook, just click the link below and hit the "like" button:
_________________________________
***Advertisement***
Strip Away Stubborn Belly Fat Without Doing Long Boring Cardio Again
Here's your chance to get 3 of the best Turbulence Training workouts specifically designed to help women target their thighs, abs, and arms - all while saving OVER 75% off the regular price.
_________________________________
Strawberry Vegetable Salad
Feel free to change the recipe as you wish and add different veggies, green leafy salads or even fruit.
It's a fantastic meal for a summer evening and when your family starts nagging that this food is "too healthy", then voilá you serve the strawberry crepe dessert!
Strawberry Vegetable Salad _________________________________
Essential Guide to Crepes
The Ebook Essential Guide to Crepes by Ashley Memory is probably the best book on How to Make Crepes.
Apart from giving detailed step-by-step instructions with photos on how to make world class crepes, it gives you ideas and strategies for throwing an unforgettable crepe party that will give you lasting fame amongst your friends, and some of the best-kept secret crepe recipes that you won't find anywhere else on the internet or offline.
Don't hesitate and grab your copy of the Essential Guide to Crepes now. You won't regret it!
_________________________________
We hope you enjoyed this edition of The Crepe Vine as much as we enjoyed sending it to you. As always, please continue to send us your feedback because it helps us improve future issues. You may drop us a line by replying to this email.
Best Wishes
Marion