July 31, 2013
Hi,
Hopefully you are enjoying summer and maybe you even took vacation or are to go on vacation soon.
Where I live, the school summer break started today and you can see many happy kids everywhere in the city :-)
Apart from the recipes in this newsletter I have an article for you about a so-called healthy cooking oil you should avoid under all circumstances for cooking your crepe recipes.
Recipe of the Month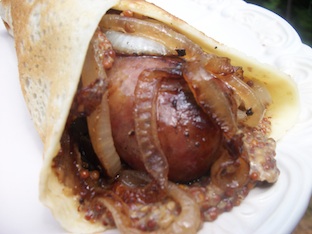 Summer is barbecue time!
Weather permitting we use our outdoor grill (charcoal or gas) at least two times a week.
It gives this certain special touch to any meal, that only a barbecue can do. Even more, when you have friends over and enjoy a silky summer night.
If you love German-style bratwurst, you must try our easy recipe for bratwurst crepes.
Bratwurst Crepes
It tastes heavenly, when the Bratwurst is properly grilled on the outdoors barbecue, but on a rainy day, they're almost equally good made in a cast iron pan.
No grill party is complete without a salsa. As everyone already knows and dislikes the store-bought sauces, we usually make our own. The Mango salsa is one of the stars of any barbecue:
_________________________________
Please follow us on Facebook, just click the link below and hit the "like" button:
_________________________________
The shocking truth about Canola Oil
You may have noticed, that many of my recipes include canola oil.

For years you and I have been told, that this is the healthiest cooking oil ever. And we have believed it.

But the shocking truth is actually quite different!

After hours and hours of research and reading many different scientific studies, I will never again use "normal" canola oil.

Let me just give you the key points (if you want to read more detailed information about the topic, I will give you a link at the end of this article.)
Canola oil is made from the Rapeseed plant, that used to be very toxic due to erucic acid. But this is not a problem anymore, because new plants with virtually no erucic acid have been bred during the last 30 years
Rapeseed is a highly commercial plant that is treated with lots and lots of pesticides, that may show up in the oil as well
In the US and Canada more than 80% of the rapeseed plants are genetically modified
The canola oil is heavily processed and refined, which makes it highly inflammatory for your body
During processing some of the healthy omega-3 oils are converted into bad transfats
The conclusion: Processed and refined canola oil is nothing you want to put into your mouth!
The only canola oil you should ever use for cooking has to be cold-pressed, organic, and non-gmo !
If you can't get that, opt for healthier choices.
Read more detailed information and find out the healthiest options for cooking oils.
Stuffed Mushrooms
You need some side dishes for you Bratwurst crepes, don't you? Here's our favorite recipe for stuffed mushrooms. Just make enough, because your guest will devour them.
I've never experienced any leftover mushrooms :-)
_________________________________
Essential Guide to Crepes
The Ebook Essential Guide to Crepes by Ashley Memory is probably the best book on How to Make Crepes.
Apart from giving detailed step-by-step instructions with photos on how to make world class crepes, it gives you ideas and strategies for throwing an unforgettable crepe party that will give you lasting fame amongst your friends, and some of the best-kept secret crepe recipes that you won't find anywhere else on the internet or offline.
Don't hesitate and grab your copy of the Essential Guide to Crepes now. You won't regret it!
_________________________________
We hope you enjoyed this edition of The Crepe Vine as much as we enjoyed sending it to you. As always, please continue to send us your feedback because it helps us improve future issues. You may drop us a line by replying to this email.
Best Wishes
Marion