January 21, 2014
Hi,
I admit, I'm a bit late, but still: Happy New Year 2014!
Hopefully you had a wonderful start into the year and are still on track with your New Year's Resolutions.
The next celebration is already coming up with Valentine's Day in less then four week. Get ready with your romantic dinner and gift planning :-)
Recipe of the Month
Do you love German Black Forest Cake? You will love even more our black forest crepe! It's the perfect addition to a romantic dinner for two.
The recipe contains one tablespoon of Kirsch (cherry brandy), but as always you can substitute the liqueur with aroma.
Heavenly!
_________________________________
Essential Guide to Crepes
The Ebook Essential Guide to Crepes by Ashley Memory is probably the best book on How to Make Crepes.
Apart from giving detailed step-by-step instructions with photos on how to make world class crepes, it gives you ideas and strategies for throwing an unforgettable crepe party that will give you lasting fame amongst your friends, and some of the best-kept secret crepe recipes that you won't find anywhere else on the internet or offline.
Don't hesitate and grab your copy of the Essential Guide to Crepes now. You won't regret it!
_________________________________
Romantic Valentine Gift
Chocolate Covered Strawberries ! Can you think of anything more romantic?
Find the simple recipe on how to do them at home here:
Chocolate Covered Strawberries
If you don't have the time to make those goodies yourself or you need a really fantastic and luxuriously looking gift (hint: show this to your husband so he knows what you want), then the wonderful Strawberry Roses by Shari's Berries are an excellent choice.
Just see the picture below, aren't they truly fantastic?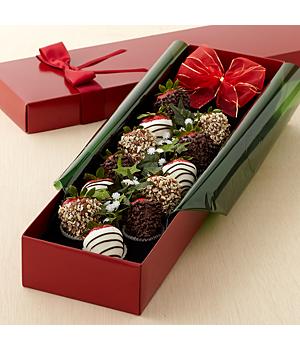 _________________________________
Please follow us on Facebook, just click the link below and hit the "like" button:
---
If you found this newsletter useful, please donate any amount to help me keep up the work.
We hope you enjoyed this edition of The Crepe Vine as much as we enjoyed sending it to you. As always, please continue to send us your feedback because it helps us improve future issues. You may drop us a line by replying to this email.
Best Wishes
Marion