July 9, 2014
Hi,
Sorry for not sending this newsletter in such a long time.
I do have a wonderful reason, though: In May our little girl was born. :-)
I sincerely didn't remember how exhausting a newborn baby is. Sleep,drink, cry, sleep, drink, cry ... sleeping mainly at day (not necessarily at night) and often in from of 15 minute naps.
Even though I'm really, really happy about our little Charlotte, I'm also very, very tired and don't get much work done.
You probably can relate :-)
Anyhow, "Carpe Diem", seize the time when she's peacefully asleep and I'll try to get out this newsletter as fast as possible.
By the way, I also have a Facebook fanpage. Please like the page to never miss an update. It's easier to write a short Facebook post, than a full length newsletter, therefore I do write more regularly over there.
https://www.facebook.com/Crepesworld
Recipe of the Month
Summer is the season, when you get fresh local produce at reasonable prices. Especially when it's hot outside I like to make my crepes light and "colorful".
Below you'll find some of my favorite Veggie Crepes for the Summer Season:
Sauteed Eggplant, Zucchini and Mushrooms

And what would summer be without berries? These dessert crepes with strawberries and cream cheese will leave you asking for more :-)
Heavenly!
Do you have a blueberry crepe recipe you want to share? Show us your work of love and it might just make it to our "Hall of Honor".
_________________________________
Essential Guide to Crepes
The Ebook Essential Guide to Crepes by Ashley Memory is probably the best book on How to Make Crepes.
Apart from giving detailed step-by-step instructions with photos on how to make world class crepes, it gives you ideas and strategies for throwing an unforgettable crepe party that will give you lasting fame amongst your friends, and some of the best-kept secret crepe recipes that you won't find anywhere else on the internet or offline.
Don't hesitate and grab your copy of the Essential Guide to Crepes now. You won't regret it!
_________________________________
More Strawberry Recipes
If you love strawberries, the season is still on.

Below you find a few of my favorite Strawberry recipes.

Strawberry mousse with fresh fruits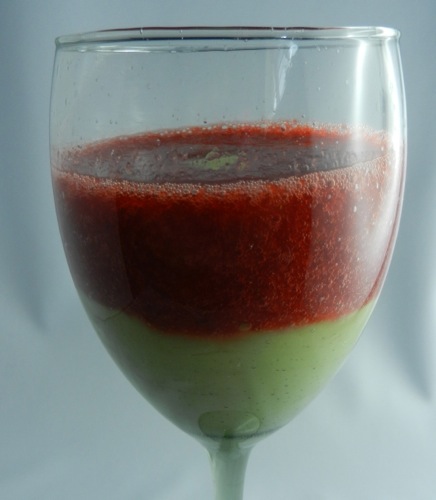 _________________________________
I'm always on the lookout for new fantastic crepe and dessert recipes and post the most inspiring pictures I can find on Pinterest.
Follow World of Crepes on Pinterest
---
We hope you enjoyed this edition of The Crepe Vine as much as we enjoyed sending it to you. As always, please continue to send us your feedback because it helps us improve future issues. You may drop us a line by replying to this email.

Best Wishes

Marion