Easy Baked Ham Glaze Recipes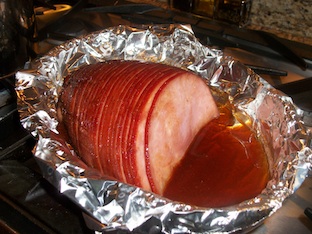 If you like baked ham glaze recipes, you'll love our honey-bourbon glaze. It's the perfect basting sauce for cooking ham, especially when you add the ham to warm crepes and top them with our pear chutney recipe!

Bourbon, brown sugar, honey, mustard and a splash of orange juice mixed together create the perfect sweet and tangy glaze for your recipes with ham.
I make it easy on myself by buying a pre-cooked 3-lb ham that's already sliced. This way it goes from the oven to the dinner table (and fork) immediately! 
How to Make Glaze for Ham
Ingredients:
¼ cup of bourbon
¼ cup of honey
¼ cup of brown sugar
2 tbsp of Dijon mustard
1 tbsp of orange juice
⅛ tsp of ground cloves
2½-3 lb pre-cooked ham, sliced
Preheat oven to 350 degrees. In a small bowl, stir together glaze ingredients (first 6 items). Place ham in a foil-lined casserole dish. Pour glaze over ham.
Place ham in oven and bake for 45 minutes, basting ham with glaze every 15 minutes. Remove from oven and let sit, covered for 10 minutes. As the ham rests, the glaze will thicken slightly, making the most delicious sauce for crepes!
If you wish to serve your ham in crepes, while your ham rests, you may make basic crepes according to directions in How to Make Crepes. If you made your crepes ahead of time, wrap them in foil and reheat in a 325-degree oven for about 10 minutes or until warmed. 
How to Make Glazed Ham Crepes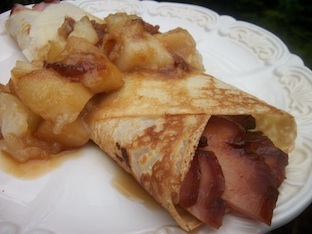 Assemble crepes: Lay first crepe flat on a serving dish.
Layer about 6 strips of ham (sliced to fit) in the middle of crepe. Spoon 1 tbsp of warm glaze over ham.
Roll up and if desired, top with 2 tbsp of our pear chutney recipe. 

Repeat with remaining crepes and serve immediately.
Return to Main Dish Crepes. 

Return to Home.

I love to Pin - Check out my Pinterest Boards