Best Ground Beef Recipes
Taco Recipe for Crepes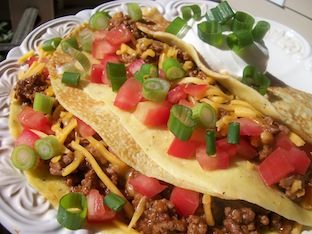 Seeking the best ground beef recipes for crepes? Try our taco crepe filling for cornmeal crepes. It's a tasty meal that will also become one of your favorite easy dinner recipes for kids.
I love Mexican food, but I never liked that hard-shelled tacos very much. They're stiff and not as easy to handle, especially for kids.
Usually you end up with a broken taco shell and the filling splattered all over the place - not my idea of a perfect family meal.
If you and your kids enjoy taco recipes for ground beef, try substituting cornmeal crepes for the taco shells!
Apart from the easier handling, they're much healthier and add a unique twist to a Mexican favorite—especially when filled with savory ground beef, tomatoes and cheese!
Ingredients:
1 lb of lean ground beef
¾ cup of water
1 package of mild taco seasoning
½ cup of cheddar cheese
2 roma tomatoes, seeded and chopped
1 green onion, sliced, for garnish
¼ cup of sour cream, for garnish
First, make your cornmeal crepes, according to directions in How to Make Crepes. Set aside and cover to keep warm.
Brown ground beef, crumbling with a fork as meat cooks. After meat is no longer pink, add water and seasoning package. Reduce heat, stir and cook for 5 minutes. Remove from heat.
Assemble crepes: Lay first crepe flat on serving dish. Spoon ½ cup of ground beef-taco mixture inside crepe.
Top with 1 tbsp of tomatoes and 1 tbsp of cheddar cheese. Fold over and top with 1 tbsp of sour cream and 1 tbsp of green onions. Repeat with remaining crepes. Serve immediately.
Yummy!

Yield: 4 servings (1 crepe each)
Side Note: For some extra fun, lay the table with all the ingredients and have everyone assemble their own. You can add some more ingredients like bell peppers, olives or corn.
It really makes it one of the best ground beef recipes I know, with the added fun of a social gathering to make your own version. And everyone can include only their favorite filling.
Return to Easy Recipes for Kids.

Return to Home.
I love to Pin - Check out my Pinterest Boards