Cheddar Cheese Sauce Recipe for Crepes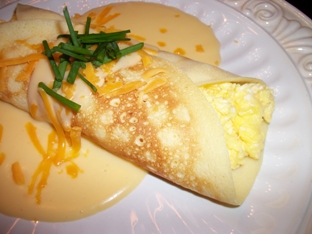 This easy, stove-top cheddar cheese sauce recipe (also known as mornay sauce) is a tangy and smooth complement to any of your savory crepe recipes.
Mornay sauce is a Béchamel sauce with shredded or grated cheese.We sue cheddar cheese, but you can also use Parmesan or Gruyére cheese.
Start easy with a brand you know and like and once you've got the hang of the recipe you can experiment with different cheese types and flavors. I'll guarantee you'll find more than one variety that you love.
Try it with crepes filled with scrambled eggs or broccoli and cauliflower au gratin.

Ingredients:
3 tbsp of butter
4 tbsp of flour
2½ cups of milk
1¼ cups of grated mild cheddar cheese
1 tsp of salt
Pinch of white pepper
Melt the butter in a medium saucepan over medium heat. Whisk in the flour after the butter has melted. Cook for 1 minute, whisking constantly so that mixture does not burn.
Heat milk in a microwaveable container until hot. Add milk gradually to saucepan. Bring mixture to a boil and continue to whisk until it is smooth and thick. Reduce heat and simmer for 2-3 additional minutes. Add cheese and seasonings and stir until combined. Remove from heat and serve.
Note: If you've made this sauce for another recipe, you may place it in a double boiler over a pan of simmering water to keep it hot until ready to use.
Yield: 2 cups of sauce
I love to Pin - Check out my Pinterest Boards