Cranberry Orange Relish Recipe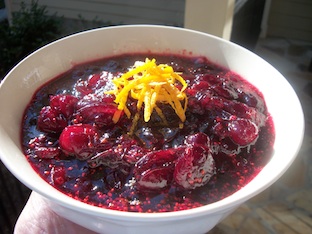 Without cranberry relishes, Thanksgiving just wouldn't be the same! Our cranberry orange relish recipe will become one of your favorite Thanksgiving side dishes recipes. 

With just four main ingredients, this is the easiest sauce recipe on our website. Make it once and you'll never use that canned stuff again!
The combination of orange zest and cranberries delivers the perfect combination of sweetness and piquancy, just what you'd expect in a classic recipe.
Ingredients:
1 16-oz bag of fresh or frozen cranberries
1 cup of water
1 cup of granulated sugar
Zest of one large orange
1 tbsp of orange liqueur, optional
Put cranberries into a strainer. Run water over them and sort to remove any debris. Set aside.
Bring water and sugar to a boil in a medium saucepan. Add cranberries and bring to a boil. Reduce heat and let simmer for 10 minutes or until most of the berries have burst. Don't cook it any longer if you like to have whole berries in your sauce, like I do.
Remove from heat and stir in zest and optional liqueur. Cover and refrigerate for 2-3 hours or until thoroughly cooled. Your sauce will thicken during refrigeration.
Yield: 2 cups of sauce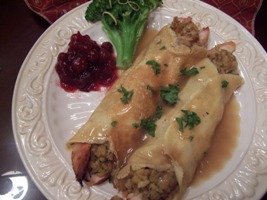 This recipe is delicious served over dessert crepes but it also makes a wonderful side dish for our Roasted Turkey Crepes.
We also recommend cranberry relishes as an accompaniment to our Turkey Potpie Crepes.
However you serve your relish, just make plenty of it to share.
Enjoy! 
Cranberry Dessert Recipes. Seeking cranberry dessert recipes? Try our Cranberry Relish Recipes for Crepes. You'll love the cranberry-orange-cream cheese filling folded into yummy gingerbread crepes.
I love to Pin - Check out my Pinterest Boards