Easy Crepes Recipe

Crepe with Proscuitto, Fig Preserves and Gorgonzola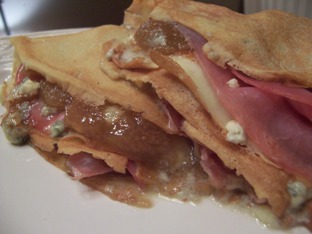 Easy crepes recipe for dinner.
Tired of the same old main dishes and don't know what to have for dinner?
We have a special treat for you: this blend of sweet and savory flavors is a mouth-watering delight you'll never forget.
The salty prosciutto fits perfectly with the sweet figs and aromatic Gorgonzola cheese. Try it and see for yourself.
This recipe was inspired by a trip to the Carrboro Farmer's Market, where I found the most delicious jar of homemade fig preserves. One spoonful and I just knew it belonged in a crepe.
But of course I couldn't stop there and just make a "normal" sweet dessert crepe with fig preserves. No, once I was happily cooking in my kitchen, I got creative (and hungry) and invented this wonderful sweet and savory easy crepes recipe with prosciutto,  figs and Gorgonzola.

It's a perfect quick and easy dinner, that everyone in your family (including the kids) will like.
Ingredients
8 slices of prosciutto ham

1 cup of fig preserves

1 cup of Gorgonzola cheese crumbles


Preheat oven to 350 degrees. Lay first crepe on a flat working surface.
Spread ¼ cup preserves on the bottom. Layer 2 slices of prosciutto and top with ¼ cup Gorgonzola, sprinkled evenly across the top.
Fold crepe into quarters. Repeat procedure with remaining crepes. Place crepes on baking sheet and bake until cheese begins to melt.
Serve immediately.
Note: This is a very filling dish and we find that one crepe per person is quite sufficient for a quick dinner, especially when served with a side dish.
We love to make a big tossed salad with greens, tomatoes and bell peppers as a side dish for this easy dinner.

Yield: 4 servings (1 folded quarter each)

Return to more Easy Crepes Recipe
I love to Pin - Check out my Pinterest Boards