Easy Grilled Vegetable Recipes for Crepes
Seeking easy grilled vegetable recipes? Try this recipe for grilled vegetables for crepes. Read along for more, including sauce suggestions and a simple and delicious marinade for grilled vegetables. 

Grilled vegetable recipes like this one are an easy way to use up summer vegetables in a creative and delicious way.
You'll delight both family and friends with this delicious assortment of our favorite vegetables—from portobellos to zucchini to summer squash—all rolled up in a tasty crepe. 

Ingredients:
3 portobello mushroom caps
1 zucchini, sliced lengthwise into ¼-inch strips
1 yellow squash, sliced lengthwise into ¼-inch strips
1 medium red bell pepper, seeded and sliced into quarters
1 bunch of scallions
1 cup of olive oil, divided
2 tsp of minced garlic
½ tsp of salt
¼ tsp of black pepper
2 tsp of balsamic vinegar
1 cup of your favorite salad dressing
First, make crepes according to directions in How to Make Crepes. If you made your crepes ahead of time, wrap them in foil and reheat in a 325-degree oven for about 10 minutes or until warmed. 

Clean mushrooms by wiping caps free of any dirt. Next, to ensure that mushrooms do not dry out while grilling, soak for 3 minutes in a large bowl of water.
Meanwhile, mix together ½ cup of olive oil, garlic, salt and pepper. Brush mixture on top of mushrooms, zucchini, squash, pepper and and let sit for 5 minutes. 
Place vegetables on grill. Grill on each side for 3-5 minutes until vegetables are lightly charred by the grill or when they reach desired level of cooking.
The red pepper will char more quickly than the other vegetables, but once it cools, the blackened skin will slip off easily.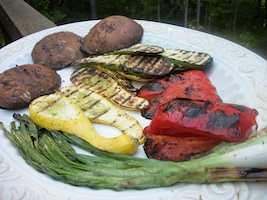 After grilling, brush vegetables with a mixture of the remaining ½ cup of olive oil and balsamic vinegar. Slice all vegetables, except scallions, into ¼-inch strips.
Assemble crepes: Lay first crepe on a flat serving dish. Place 4-5 strips of grilled vegetables inside crepe. Roll up and repeat with remaining crepes. 
If desired, top each crepe with 2-3 tbsp of your favorite salad dressing or sauce. We recommend our Honey Mustard Dressing or Hollandaise sauce. Finally, garnish with grilled scallions and serve immediately.

Yield: 6 servings (1 crepe each)
If you enjoyed easy grilled vegetable recipes for crepes, check out our page dedicated to Veggie Crepes!
Return to Easy Grill Recipes. 

Return to Home. 

I love to Pin - Check out my Pinterest Boards