Easy Sloppy Joe Recipe for Crepes
Quick Dinner Ideas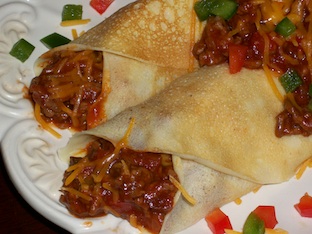 Seeking easy recipes for ground beef? Try our easy sloppy joe recipe for crepes! It's a comforting dish that's quick to prepare and extra yummy to the tummy. 

Who doesn't love sloppy joe recipes?
But these days, who needs that big old hamburger bun?
Once you taste this crepe recipe, you'll never miss the extra bread.
In fact, you may want to double the recipe so everyone can have seconds!
Ingredients:
2 tbsp of cooking oil
¼ cup of sweet onion, chopped
¼ cup of red bell pepper, finely chopped
¼ cup of green bell pepper, finely chopped
1 clove of garlic, minced
1 pound of lean ground beef or turkey
1 teaspoon prepared yellow mustard
1½ cups of ketchup
3 teaspoons brown sugar
Dash of hot sauce
¼ tsp of salt
⅛ tsp of black pepper
1 cup of mild shredded cheese
Heat oil in a large skillet over medium heat. Sauté peppers and onions until tender and nearly translucent (about 3 minutes). Add garlic and cook for an additional minute. Stir in ground beef and cook until it's crumbly and no longer pink.
Add ketchup, mustard, sugar, hot sauce and additional seasonings. Stir until fully mixed in with the beef. Reduce heat and let simmer for 20 minutes.
Meanwhile, make crepes and wrap in foil to keep warm. If you made your crepes ahead of time, remove them from the refrigerator or freezer, wrap them in foil and reheat in a 325-degree oven for about 10 minutes or until warmed.
Assemble crepes:
Lay first crepe on a flat serving dish. Spread ⅓ cup of filling across the middle of crepe. Sprinkle 1 tbsp of cheese over the filling. Roll up and repeat with remaining crepes. Serve immediately.
Yield: 6 servings (1 crepe roll each)
Return to Quick Crepes. 

Return to Home.
I love to Pin - Check out my Pinterest Boards