How to Cook Beef Brisket
Slow Cooker Recipe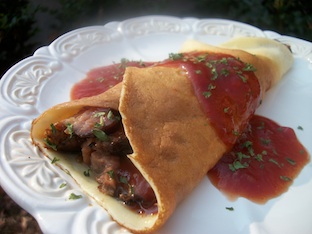 Enjoy beef brisket recipes? Learn how to cook beef brisket with this easy slow cooker beef brisket recipe. 

This carefree crockpot recipe turns the naturally tough brisket into a tender and succulent roast that makes a delicious crepe filling.
It bastes itself in a flavorful liquid that keeps the meat moist during the cooking.
Serve it topped with our tangy barbecue sauce for extra zing!
Ingredients for Beef Brisket:
2½-3 pound beef brisket
1 teaspoon of salt
½ teaspoon of pepper
2 tbsp of canola or vegetable oil
1 cup of water
¼ cup of worcestershire sauce
1 tbsp of minced dried onions
1 garlic clove, minced
1 tsp of dried thyme
Ingredients for Barbecue Sauce
1 cup of ketchup
1 tbsp of brown sugar
1 tbsp of apple cider vinegar
¼ teaspoon of cayenne pepper
How to Cook Beef Brisket:
For optimum flavor, I highly recommend browning your brisket before placing it in the slow cooker. To do so, heat oil in a large skillet over medium heat. Season roast liberally with salt and pepper. Place in skillet and brown on all sides. Cover with foil to minimize oil spattering.
Combine water, worcestershire sauce, minced onions, garlic and thyme. Place brisket (fat side up) in slow cooker and cover with liquid mixture. Cook on lowest setting for for 8-10 hours or on high for 4-6 hours or until meat shreds easily with a fork. The last half hour of cooking time would be a great time to make your crepes . Cover with foil to keep them warm.
After brisket cooks, let it sit for 10 minutes before slicing. Meanwhile, stir together barbecue sauce ingredients in a small saucepan and bring to a boil. Reduce heat and let simmer for 2 minutes. Slice brisket against the grain. If desired, serve inside crepes and top with barbecue sauce. Garnish with dried parsley. Serve immediately.
Yield: 8 servings
Return to Main Course Crepe Recipes.
I love to Pin - Check out my Pinterest Boards