Irish Coffee Pie - Dessert Crepe Filling Recipe
Chocolate Crepes Filled with Irish Coffee and Whiskey Filling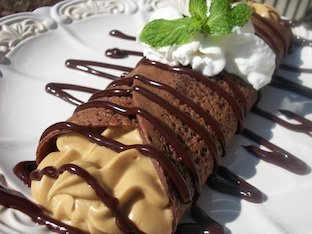 Seeking new ways to celebrate St Patrick's Day traditions or more chocolate desserts? Try our Irish Coffee Pie Crepes. 

If you like the smooth flavor of Irish whiskey and the rich flavor of coffee, you'll love this treat.
In this recipe for crepes, we also add a generous dose of chocolate, both in the crepe batter and in the topping.
For a little extra luck, add four leaves of mint for an instant "shamrock!"
Ingredients:
2 pkgs. of instant vanilla pudding mix (3.5 oz each)
4 tsp of instant coffee granules
1 cup of cold milk
⅔ cup of cold water
6 tbsp of Irish whiskey
1 cup of whipping cream
4 8-inch Chocolate dessert crepes
Whipped cream and mint leaves for garnish
Beat pudding mix, instant coffee and milk together in a medium bowl on high speed for 1 minute. Add water and whiskey and beat for another 1-2 minutes until fluffy.
In another bowl, whip cream until soft peaks form. Fold into pudding-whiskey mixture and chill for at least 5 minutes or until set.
Meanwhile, make chocolate crepes and chocolate sauce.
Assemble crepes: Lay first crepe on the serving dish. Spoon or pipe ½ cup of filling across the middle and roll up. Repeat with remaining crepes. At this point you may refrigerate for up to 8 hours. Right before serving, drizzle with chocolate sauce and garnish with whipped cream and mint.
Yield: 4 servings (1 crepe each)
More Irish-Inspired Recipes for Crepes
Shepherd's Pie in Cheesy Potato Crepes

Reuben Sandwich Recipe Featuring Corned Beef and Sauerkraut



Return to Chocolate Crepes. 

Return to Home.

I love to Pin - Check out my Pinterest Boards