Recipe for Crepes - Quick Dinner Ideas
Easy Crepe Recipe with All the Flavors of Pizza: Italian Sausage, Pepperoni, and Mushrooms!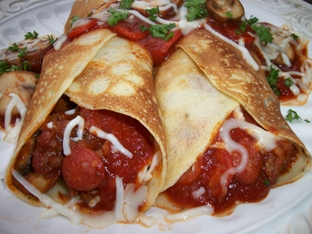 Seeking a new pizza casserole recipe? New recipes with Italian sausage? Try this recipe for crepes featuring Italian sausage, pepperoni, and mushrooms. This easy crepe recipe has all the flavors of pizza, but without the hassle of a crust. 

On a busy weeknight, when you need quick dinner ideas, who has time to wait for dough to rise?
If it's pizza you're craving, you'll love these easy crepes filled with sausage, pepperoni, mushrooms and topped with melted mozzarella cheese.
This recipe for crepes is certain to replace your pizza casserole recipe as one of your family's most requested easy dinner recipes.
Ingredients:
½ lb. of mild Italian sausage
½ lb. of ground beef
½ cup of diced pepperoni (we used sliced mini-pepperonis)
1 medium onion, diced
2 garlic cloves, minced
8 oz. of fresh mushrooms, sliced
1 jar (26 oz.) of your favorite tomato-based pasta sauce, divided
1 tsp of dried oregano
¼ tsp of salt
1½ cup of grated mozzarella cheese
Preheat oven to 350 degrees. If sausage has casings, remove. Brown ground beef and sausage in large skillet over medium heat. Stirring, break up large chunks of meat and cook until no longer pink. Drain well, reserving 2 tsp of fat.
Cook onion in same pan with reserved fat until transparent (about 3 minutes). Add garlic and cook for an additional minute. Add mushrooms and cook until they are golden brown and caramelized (about 6-8 minutes longer). Add beef-sausage mixture, pepperoni, 2 cups of pasta sauce, oregano, and sauce. Simmer for 3 additional minutes. Remove from heat.
Assemble crepes: Lay first crepe in an oiled baking dish. Pour ½ cup of meat-sauce-mixture inside crepe. Sprinkle with 1 tablespoon of cheese and roll up. Repeat with remaining crepes and arrange side-by-side. Pour remaining sauce over the top of crepes and top with ½ cup of cheese. Bake for 10-15 minutes or until cheese has melted. Serve immediately.
Yield: 8 servings (1 crepe roll each)
Return to Quick Crepe Recipes.
I love to Pin - Check out my Pinterest Boards