Dessert Crepe Recipes for Poached Pears
Warm Poached Pears Coated in Chocolate Over Dessert Crepes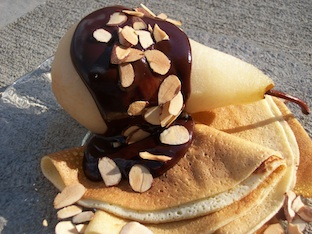 Enjoy simple desserts? Try this dessert crepe recipe for poached pears coated in our velvety chocolate sauce recipe. 

This poached pear recipe for crepes is the perfect dessert for any meal.
You'll love the contrast between the tender-crisp pears and silky chocolate sauce.
It's a an elegant but simple topping for our light and airy dessert crepes. 
Ingredients:
Pare 2 strips of peel from the lemon. Cut in half. Peel and core pears, leaving stems intact. Coat all sides of pears with the lemon halves to prevent browning.
Bring sugar and water to a gentle boil. Simmer until sugar dissolves. Add cinnamon stick and lemon peel. Let simmer for 1 minute longer. 
Add pears to the simmering syrup in a single layer. They should be almost submerged. Poach pears for 15 minutes or until you can easily pierce with a fork. Do not poach much longer or pears will become mushy. Turn once halfway during poaching.
Meanwhile, make crepes and wrap in foil to keep warm. If you made your crepes ahead of time, remove them from the refrigerator or freezer, wrap them in foil and reheat in a 325-degree oven for about 10 minutes or until warmed.
Assemble crepes:
Fold two crepes into triangles and overlap on plate. Top with one pear. Coat in warm chocolate sauce and top with a sprinkle of toasted almonds. Repeat with remaining crepes. Serve immediately.
Yield: 4 servings (2 crepes and one pear each)
Return to Easy Dessert Crepes. 

Return to Home.

I love to Pin - Check out my Pinterest Boards