Strawberry Crepes
A Strawberry Dessert in 15 minutes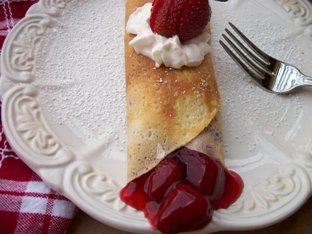 Need more recipes for quick and easy desserts? Try our simple strawberry crepes. If you make your dessert crepes ahead of time, you can have this dish on the table in just 15 minutes. 

Ingredients:

2 cans of strawberry pie filling
1 tablespoon of lemon juice
Whipped cream
Fresh strawberries for garnish


If you made your crepes ahead of time, wrap them in foil and reheat in a 325-degree oven for 10 minutes or until warm. Meanwhile, pour strawberry pie filling into a medium saucepan. Add lemon juice and stir to combine. Turn burner to medium low and let simmer for 30 seconds more. Remove pan from heat. 
Assemble crepes: Lay each crepe on a flat working surface. Spoon ¾ cup of mixture into each crepe and roll up. Drizzle with one tablespoon of warm sauce or garnish with whipped cream and a sprig of mint.
You can also garnish your strawberry desserts with a strawberry fan. A fan is easy and simple to prepare. Simply stand a whole, washed berry on its stem and slice nearly all the way through in four or five strokes. Spread your masterpiece out in a fan over the crepes and voila! It's that easy.
Yield: 4 servings (1 crepe roll each)
I love to Pin - Check out my Pinterest Boards