Strawberry Rhubarb Recipes
Sauce Recipe for Crepes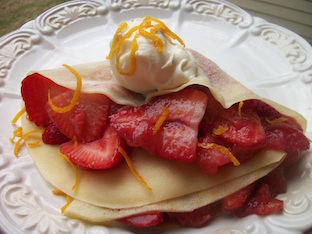 Seeking new strawberry rhubarb recipes? Try this strawberry rhubarb sauce recipe for crepes. Nothing complements the tart taste of rhubarb better than in-season strawberries. 

Looking for an unforgettable topping for your crepes? Simmer together fresh rhubarb and then stir in fresh strawberries.
Finish your crepes with a dollop of creamy mascarpone and orange zest.
It's a beautiful and tasty simple dessert recipe for crepes. 


Ingredients:
3 cups of fresh rhubarb, washed and cut into ½-inch pieces (about 6 medium stalks)
¾ cup of sugar
¼ cup of water
2 tbsp of orange juice
1 tbsp of orange zest
2 cups sliced fresh strawberries
½ cup of mascarpone cheese
First, make crepes and cover to keep warm. If you made your crepes ahead of time, wrap them in foil and reheat in a 325-degree oven for about 10 minutes or until warmed.
Mix rhubarb, sugar, water and orange juice in a medium saucepan over medium heat. Stir gently until sugar is absorbed. Simmer for 8-10 minutes, stirring occasionally, until rhubarb is tender. Remove from heat and stir in strawberries.
Assemble crepes: Lay first crepe across serving platter. Spoon ½ cup of rhubarb-strawberry sauce across half of crepe. Fold again into quarters. Top with 1 tbsp of mascarpone cheese and a sprinkle of orange zest. Repeat with remaining crepes and serve immediately.
Yield: 4 servings (1 crepe each)
Return to Strawberry Crepe Recipes.
I love to Pin - Check out my Pinterest Boards