Banana Split Dessert
Easy Dessert Recipes for Kids of All Ages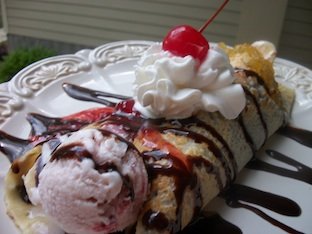 Try our fantastic banana split dessert recipe. Another simple, yet fabulous dessert crepe. It's one of our super easy recipes that even kids can make for any occasion.
Probably everyone knows the famous banana split ice cream. This is a variation of the classic recipe, wrapped up in a crepe. The warm crepe and the cold ice cream make the perfect contrast.
Every kid (and adult) will be delighted. Drizzle with hot or cold chocolate sauce and the sweet temptation is perfect.
These fun crepes are great easy dessert recipes for kids of all ages.
We recommend setting up a self-service "banana split bar" so that kids can create their own tasty crepe masterpieces.
Take it outside for an easy clean-up—simply spread a tablecloth across a picnic table!
Ingredients:
4 ripe bananas
1 carton of Neapolitan ice cream
½ jar of strawberry ice cream topping
½ jar of pineapple ice cream topping
Warm chocolate sauce

½ cup of walnuts in syrup
Whipped cream
4 long-stemmed maraschino cherries
Make the crepes and wrap in foil to keep warm. If you made your crepes ahead of time, remove them from the refrigerator or freezer, wrap them in foil and reheat in a 325-degree oven for about 10 minutes or until warmed.
Assemble crepes: Peel and slice each banana in half lengthwise. If banana is extra curvy, you may need to cut a small sliver off the bottom so that it will lay flat.


Lay first crepe on a flat working surface and lay one banana slice across the bottom. Use a spoon or miniature ice cream scoop to create 4 small mounds of varying flavors, strawberry, chocolate, vanilla and banana. Better yet, let each child scoop their favorite flavors!
Of course you can also use a single flavor, but it's more fun and looks better with different flavors in various colors.


Roll up crepe.
Drizzle with 1 tbsp each of strawberry topping, pineapple topping, and chocolate sauce. Or use your favorite toppings. We recommend to mix fruity toppings with sweet ones. Apart from chocolate sauce we also love Caramel Sauce or Praline Delight.

Garnish with nuts, whipped cream and a cherry. Repeat with remaining crepes.
Enjoy!
Yield: 4 servings (1 crepe roll each)
Return to Easy Recipes for Kids.

Return to Home.
I love to Pin - Check out my Pinterest Boards