Candied Sweet Potatoes
Thanksgiving Dessert Recipe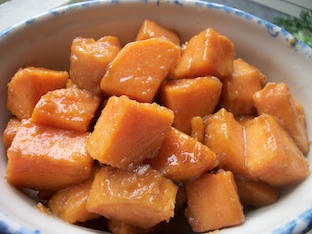 Looking for a candied sweet potato recipe? Read along, and we'll also show you how to turn this dish into one of our favorite sweet potatoes recipes for crepes! 

Fall is the perfect time to celebrate recipes for sweet potatoes.
This easy recipe is delicious as a side dish to Thanksgiving turkey but we'll also show you how to turn it into a divine dessert!
It's based on the famous recipe for sweet potato casserole but features an extra twist, our decadent praline sauce!
Ingredients for Candied Sweet Potatoes:
4 sweet potatoes, washed and scrubbed clean
1 stick of butter, melted
½ cup of brown sugar
¼ cup of frozen orange concentrate
1 tsp of ground cinnamon
½ tsp of allspice
Boil potatoes until tender (but not mushy), for about 20-25 minutes. Let cool and then peel. Cut into ½-inch pieces.
Preheat oven to 350 degrees. Combine butter, orange juice concentrate and brown sugar in a microwaveable bowl. Microwave until butter melts and stir well to combine. Add cinnamon and allspice and stir together.
Spread potatoes in a single layer in a large casserole dish and pour sugar-butter mixture over top, stirring until thoroughly combined. Cover with aluminum foil and bake for 30 minutes. Stir potatoes every 10 minutes, basting with juices every 10 minutes.
Serve immediately, or make Candied Sweet Potato Crepes. 
Candied Sweet Potato Crepes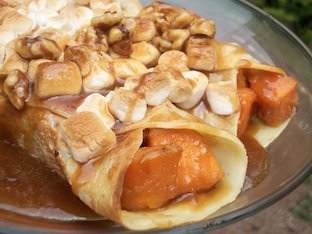 To make this delicious dessert, preheat oven to 400 degrees.
Next, fill 8 basic crepes with ½ cup of candied sweet potatoes. Roll up and place side by side in an oiled casserole dish.
Top crepes with 1 cup of marshmallows and bake until marshmallows turn brown and begin to melt. 

Before serving, top each crepe with a generous serving of our praline sauce recipe!
Return to Easy Dessert Recipes.
I love to Pin - Check out my Pinterest Boards