Turkey Breasts Recipes
Roast Turkey for Crepes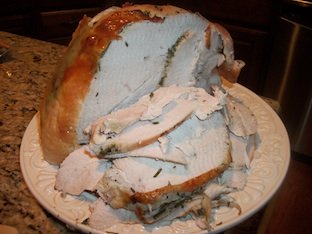 Seeking turkey breasts recipes? Try our Roast Turkey Recipe for Crepes! This recipe will not only be one of your favorite Thanksgiving dinner ideas, but you'll love the endless dinner ideas for your leftovers. And the drippings make a delicious gravy!

Wondering how long to cook turkey? This easy recipe will show you how to make a succulent, herb-crusted and wine-basted bird for a family dinner or special occasion.
We'll also show you delicious and easy ways to use up any leftovers.
Of course, that's assuming there are any!

Ingredients:
1 whole bone-in turkey breast, 6-7 pounds
1 tbsp of minced garlic
1 tbsp of chopped fresh rosemary
1 tbsp of chopped fresh thyme
1 tbsp of chopped fresh sage
2 tsp of salt
1 tsp of freshly ground black pepper
1½ cup of softened butter, divided
3 cups of dry white wine, divided
1 pkg of cheesecloth
Preheat oven to 325 degrees. Rinse turkey and dry well. Skin side up, on a rack in a roasting pan. If it tilts slightly to one side, create a small cushion out of tin foil and place underneath bird to keep it level while cooking.
Combine garlic, salt, pepper, and herbs with 1 stick of softened butter. I use plastic gloves to keep my hands clean! Next, loosen skin from the turkey and spread herb-butter paste directly on top of meat. Pour one cup of wine into the bottom of the roasting pan.
Next, melt remaining one-half stick of butter and combine with remaining 2 cups of wine in a medium bowl. Cut cheesecloth in half. You will have two separate lengths. Submerge first piece in wine-butter mixture and wring out excess moisture. Cover bird with cheesecloth. This step will keep the skin from browning too quickly.
Roast the turkey for 1.5 to 2 hours or until the internal temperature reaches 165 degrees. One hour into the cooking process, remove bird (carefully!) from oven and cover with remaining cheesecloth that you have soaked in the wine-butter mixture. l
After turkey is done, cover with tin foil and let rest for 15 minutes. You may slice and serve in warm crepes with the pan juices or create a simple gravy from the drippings (see below).
How to Make Turkey Gravy. Want to learn how to make turkey gravy? Try this easy turkey gravy recipe using broth and drippings from your roasted bird. It's the perfect turkey gravy.
Turkey breasts recipes make great crepe filings. Need turkey leftover ideas? Try these easy crepes with your turkey.
Roasted Turkey and Dressing Crepes.
Need a great side dish? Try our Orange Cranberry Relish.
I love to Pin - Check out my Pinterest Boards