Best Blender Reviews
Best Blenders for Crepe Recipes and Sauces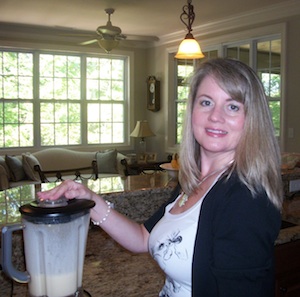 When comparing blender models, you'll want to read our best blender reviews. Whether you're a beginning crepe maker or a professional, you need a blender that's powerful, reliable and versatile!

Read what Ashley Memory, the founder and former owner of this website says about the best blenders and which one she uses in her kitchen:
If you love crepes as much as we do, you owe it to yourself to own the best blender you can afford.
A powerful blender is crucial to making smooth and consistently thick crepe batter every time.
It's also important when making sauces, whether it be a creamy hollandaise or sweet raspberry sauce.
A good blender will save you time and will be one of the most versatile tools in your kitchen.
In addition to crepe batter, you can make drinks, smoothies and shakes, and because it doubles as a pitcher, your blender can go from mixing to serving in seconds!
Through the years, I've had a number of blenders but my favorites—and the most enduring— are the KitchenAid KSB560 5-Speed Blender and the Cuisinart PowerBlend Duet Blender and Food Processor.
KitchenAid KSB560 5-Speed Blender
The KitchenAid, as demonstrated above, is my go-to work horse! Quite literally, this 0.9 horsepower blender strikes at 4 planes for optimum and unbelievably quiet performance. Because I'm constantly transporting batter from the refrigerator to the stove, the lightweight and shatter-proof polycarbonate pitcher is very important, but the sheer power is what I like most about this blender. It can purée frozen berries for my wildberry crepe batter at light speed! 
Cuisinart PowerBlend Duet Blender and Food Processor
My husband bought me this combination blender-processor 10 years ago and it's still going strong!
At 500 watts, it's a powerful blender but also doubles as a food processor and offers a full spectrum of attachments for grating cheese and blending pie crust dough. All parts are removable, which makes cleaning a snap!
For the money, versatility, and durability, I heartily recommend this blender. 
About our affiliates: World of Crepes is honored to partner with merchants such as Amazon to offer you a variety of products to enhance your cooking and dining experience. These merchants pay us a small commission on your purchase, which makes it possible for us to maintain World of Crepes. Thank you for your support. 
I love to Pin - Check out my Pinterest Boards