Crepes Suzette
Classic Orange Dessert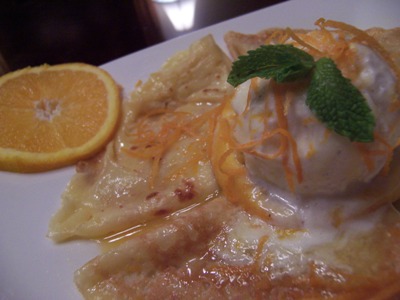 Crepes suzette is a classic orange crepes recipe created in 1895, when, according to the legend, fifteen-year-old future chef Henri Charpentier accidentally ignited some liqueur. Learn more about the history of crepes here.

Classic Crepes Suzette Recipe. Through the years, the recipe has had many refinements. Julia Child made her mark by using an orange-infused butter. Other chefs have used lemons and even kumquats in addition to the oranges. In our classic recipe, we include a garnish of fresh orange and a scoop of creamy vanilla ice cream.
Crepes Suzette with Tangerines and Honey. If you'd like to add a twist to the classic and happen to have fresh tangerines on hand, we recommend our tangerine and honey variation. The honey lends a nice syrupy consistency that melds the tangerine and lemon juices together perfectly. We're honored that this recipe earned the title of The Official Dessert of the 2009 Citrus Parade. For a humorous photo-essay on the competition, check out World of Crepes Goes to Orlando!
Strawberry and Lemon Suzette. If you're seeking more strawberry dessert recipes, you'll want to to try this variation, which features fresh berries and the refreshing flavor of fresh lemon. What would our beloved creator Henri Charpentier say, you wonder? We think he'd say Bon Appetit!
Dark Chocolate Crepes in Orange Sauce. And another crepes suzette recipe that would make Henri Charpentier proud—dark chocolate crepes covered in an orange sauce of butter, orange juice and liqueur! The best of chocolate and orange combined in one simple, mouth-watering dessert.
Lemon Dessert Recipes is another variant of the classic recipe featuring the juice of fresh lemons and limes. Try these easy lemon crepes when you're craving lemon desserts or want a new lime dessert recipe! 
To flambé or not to flambé? Julia certainly did, by adding a sprinkle of sugar on the finished crepes and then igniting a sauce that includes both orange liqueur and brandy. In our humble opinion, we believe that the flaming, while certainly impressive, adds little to the resulting flavor. The key to creating the world's best suzette is to reduce the sauce, stirring constantly, and to serve immediately.
The orange is a star ingredient in the classic crepes suzette recipe and certainly in the world's culinary palette. We simply love it. Learn more about the orange in Facts about Oranges and Types of Oranges.
Have A Great Story About Crepes Suzette?
Do you have a great story about your experience either eating or making crepes suzette? Share it!
What Other Visitors Have Said
Click below to read stories from other visitors to this page...

Making Crepes with my Papa
I too like to cook with my Papa. We've made crepes suzette together many times. Our recipe is the traditional one with oranges. Merci!
Susie's crepes suzette
I fell in love with crepes suzette during a visit to Paris. I love this website because it is so helpful. Can't wait to make this recipe at home and bring …
I love to Pin - Check out my Pinterest Boards