Easy Dessert Recipes with Crepes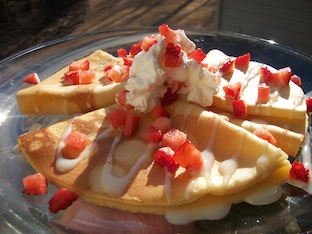 Need more easy dessert recipes? Tired of pies, cakes and cookies? Take a break from the ordinary and surprise your family and friends with these simple desserts featuring fruit and other delicious crepe filling recipes.

Tres Leches Recipe for crepes. Enjoy traditional tres leches (or three milks) recipes? Instead of the expected cake, try making tres leches crepes, which take only minutes to whip up. Top them with prepared sweetened condensed milk and diced strawberries for special flair!
Grilled Pineapple Recipe for Crepes with Rum Raisin Sauce. Longing for a tropical getaway? The flavor of this recipe will remind you of dreamy days spent by a clear blue sea.
Enjoy grilled fruit? Try our Peach Melba Crepes!
Banana Crepes
Easy Banana Pudding Recipe for crepes. If you enjoy this classic Southern dessert, you'll want to try it wrapped up in crepes. 

Banana and Walnut Crepes with Caramel Sauce is an easy dessert recipe that features sauteéd bananas and walnuts folded into warm dessert crepes and topped with our heavenly caramel sauce. 

Fried Nutella and Banana Crepes. For an out-of-this-world dessert that will blow your mind, try our fried crepes with nutella and banana. Your family will think they're at the State Fair! 

Bananas Foster Crepes. Want more banana crepe recipes? Then you should try our classic bananas foster recipe for crepes. If you're missing New Orleans, this decadent and easy dessert recipe will transport you immediately. 
Apple Crepes
Dutch Apple Crumb Crepes is a delicious and easy crepe recipe that starts with apple pie filling and a quick cinnamon topping. It's as easy as pie, or in this case, easier than pie.
Apple Crepes with Cointreau is another elegant and simple dessert recipe using apples. It features the refreshing flavor of Granny Smith apples sauteéd with brown sugar and Cointreau.
Low Carb Apple Dessert. Seeking a low carb apple dessert? Enjoy raisin recipes? Try this easy apple dessert over buttermilk spice crepes.
More Fruit and Dessert Crepes
Spiced Peaches and Syrup Over Lacy Crepes. This dish uses our dessert crepe batter recipe, which is drizzled on the pan, resulting in crispy and beautiful lacy crepes. It's then topped with spicy peaches and syrup! Yummy! 

Tropical Fruit Crepes. Who needs the tiki bar? This crepe recipe is a refreshing treat and another one of our easy dessert recipes that is sure to take you to a warmer climate with the very first bite! 

Nutella and Cream Cheese Miniature Crepes. Do you prefer simple dessert recipes with only a few ingredients? If so, you'll fall in love with our no bake dessert recipe featuring Nutella and cream cheese miniature crepes. 

Coconut Cream Recipe. Craving the taste of coconut but don't have time to make a three-layer cake? No worries! Whisk together this quick and easy coconut cream recipe for crepes. 

Mango Dessert Recipes make great crepe fillings, especially when folded inside our silky coconut crepes and drizzled with our sweet coconut milk sauce. 

Fresh Peach Recipes. Nothing says summertime like the flavor of fresh peaches. And no dessert captures this flavor better than our peach crepes with pecan praline sauce. 

Blueberry Crepes with Lemon Dessert makes an easy dessert for tea parties or a great way to begin the day at breakfast. This recipe features fresh blueberries on top of a layer of warm, sweet lemon curd. And guess what? It's also a no bake dessert recipe that you can assemble in just minutes. 

Fresh Plum Recipes for Crepes. Simmered in a sauce of brandy, apple juice, and ginger, plums make a tantalizing topping for warm dessert crepes. 

Elvis Sandwich Crepe Filling Recipe. If you're an Elvis fan, you can't help falling in love with this crepe filling recipe. It features a crepe filled with peanut butter and bananas, grilled until it's golden brown, and drizzled with honey. 

Boston Cream Pie Recipe for Crepes. Seeking more easy dessert recipes? Try our recipe for boston cream pie crepes! Kids and adults alike will love the spoon-licking flavor of this luscious crepe filling recipe.
How to Make Lemon Curd filling for crepes. If you like lemon pie recipes, you'll love this easy dessert crepe recipe.
Raspberry Recipes for crepes. Got leftover chocolate and raspberry candy? Need a quick and easy dessert? Try this impressive dessert crepe recipe featuring melted chocolate and our silky raspberry sauce recipe.
Fourth of July Dessert Crepe Seeking Fourth of July dessert recipes? Liberate yourself from the same old desserts with these easy dessert crepes featuring blueberries, raspberries, and strawberries.
Cinco De Mayo Dessert Recipes Seeking Cinco de Mayo Dessert Recipes? No bake desserts? Try one of our popular tropical crepe recipes!
Quick Easy Dessert Recipes such as our Summer Berry Trifle Crepes are easy to prepare and a fitting tribute to the fresh berries of summer!
St Patricks Day Desserts. Please the most demanding leprechaun in your life with these make-ahead treats. And yes, they're green!
Peach Recipes. Seeking more fresh peach recipes? Try these crepes with sour cherries and peaches, the perfect addition to your collection of summertime recipes.
Recipes Using Cool Whip.Seeking more recipes using Cool Whip? Try our delectable Mississippi Mud Pie Crepes! These easy chocolate crepes feature chocolate, cream cheese, pecans and a topping of Cool Whip.
French Recipes Desserts. Delicious, simple, and classically french. Read along for a list of famous french desserts, (including crepes, of course!) that are simple enough for you to make at home. Bon Appetit!
Fall and Winter Dessert Crepes
Enjoy pears? Celebrate with Pear Dessert Recipes such as our crepes filled with caramelized pears, white chocolate and walnuts!
Want more pears? Try our Poached Pear Recipe for crepes. You'll love the contrast between the tender-crisp pears and silky chocolate sauce.
Pecan Dessert Crepes Seeking an easy pecan recipe? Try our pecan turtle brownie recipe.
Easy Sweet Potato Recipe for crepes. Seeking an easy sweet potato recipe? Try our sweet potato dessert crepes with praline sauce.
Candied Sweet Potato Recipes for Crepes. This dish is based on the famous recipe for sweet potato casserole but features an extra twist, our decadent praline sauce!
Easy Pumpkin Recipes. Everyone is familiar with pumpkin pie, but as pumpkins come into harvest, why not try a twist on the traditional with these easy pumpkin crepes.
Hot Fruit Compote Recipe. Serve this warm and spicy fruit mixture in our festive pistachio crepes for a delicious side dish or impressive dessert.
Gingerbread Desserts. Enjoy fall dessert recipes? Try gingerbread desserts such as our easy Gingerbread Crepes with Maple Lemon Cream. These will also become one of your favorite Thanksgiving dessert recipes.
Cranberry Dessert Recipes. Seeking cranberry dessert recipes? Try our Cranberry Relish Recipes for Crepes. You'll love the cranberry-orange-cream cheese filling folded into yummy gingerbread crepes.
Best Baklava Recipe. This baklava recipe was inspired by my desire for this famous Greek dessert but realizing that I had no phyllo dough on hand. No problem. Crepes to the rescue!
For easy cookie recipes perfect for busy home cooks, we recommend that you also check out Best Ever Cookie Collection.
Have A Great Recipe for a Simple Dessert Crepe? Have a Comment About This Page?
What's your favorite easy dessert recipe for crepes? Have a comment about this page? Share it and your contribution could be published on our site.


Recipes or Comments from Our Visitors
Click below to see recipes or comments from other visitors to this page...

I love to Pin - Check out my Pinterest Boards