The World's Best Crepe Recipe
The world's best crepe recipe begins with the perfect crepe batter.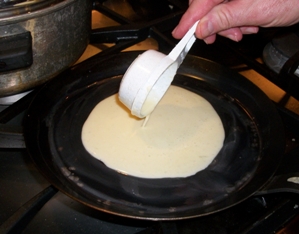 Read along for the world's most comprehensive list of the most delicious and fool-proof batters for your crepe recipes, including savory and sweet crepes.
Savory Crepe Batters
Basic Crepe Batter Recipe. This recipe is your go-to recipe for crepe batter. It works well for all types of crepes, from savory to sweet crepes and includes items you're certain to already have on hand.

Basic Crepe Batter with Herbs Recipe. Do you like the flavor of fresh herbs? This batter includes directions for spicing up your batter with thyme or rosemary.

Basic Crepe Batter Recipe for Buckwheat Crepes. Want a healthier crepe? Try our buckwheat crepe batter recipe, which includes directions for making a gluten-free crepe.

Crepe Batter Recipe for Cornmeal Crepes. This unusual crepe batter recipe works well for both savory and sweet crepes. The cornmeal batter produces a lacier and crisper crepe that is delicious hot off the pan.

Potato Crepe Batter Recipe. Enjoy potato pancakes? You'll love this recipe for potato crepes. This velvety batter yields tender and savory crepes for your favorite vegetarian or main dish crepe recipes.

Spinach Crepes Recipe. For a healthier alternative, try this flavorful crepe batter recipe for spinach crepes. The bright green color and savory taste is the perfect container for your favorite crepe filling recipes.

Rye Crepe Batter with Caraway Seeds makes delicious and hearty crepes for Reuben Sandwich crepes or roast beef or smoked ham recipes.

Scallion Crepes make the perfect wrapping for chicken or pork satay with our easy peanut sauce recipe.

How to Make Roasted Garlic. If you enjoy the buttery and nutty taste of roasted garlic, you'll want to learn how to make roasted garlic, which is a delicious addition to any savory crepe batter.
Bisquick crepes are a delicious and easy alternative to mixing your crepes from scratch. You're certain to have the primary ingredients close at hand. Try them for a quick breakfast or dinner recipe.




Sweet Crepe Batters
Dessert Crepe Batter Recipe. This recipe is perfect for your dessert and fruit-filled crepes. It includes a little sugar and splash of orange liqueur.

Buttermilk Batter Recipe. If you enjoy the tangy flavor of buttermilk recipes, you have to try our buttermilk crepe recipe for your dessert crepe fillings.

Chocolate Crepe Batter Recipe. Want a truly decadent and show-stopping crepe? Try our batter specially made for chocolate crepes. Featuring melted chocolate, it's surprisingly simple but oh-so impressive.

Dark Chocolate Crepe Batter Recipe. If you like the deep but not-too sweet flavor of dark chocolate, this recipe for dark chocolate crepes will become one of your best chocolate recipes.

Crepe Batter Recipe for Mocha Crepes. If you like a little coffee with your chocolate, our mocha crepe batter recipe topped with our chocolate sauce and toffee sprinkles will easily become one of your new favorite mocha dessert recipes.

Wild Berry Crepe Batter Recipe. Enjoy the taste of wild berries? You'll love the flavor of these "purple" crepes, which kids also love.

Fresh Strawberry Desserts start with crepe batter made from real strawberries. And yes, these crepes are really pink!

Coconut Crepes make a great wrapper for tropical fruit fillings or your favorite ice cream.
Gingerbread Desserts. Enjoy fall dessert recipes? Try our easy Gingerbread Crepes with Maple Lemon Cream. These will also become one of your favorite Thanksgiving dessert recipes.

Diabetic Desserts Recipes for Crepes. Seeking diabetic-friendly desserts? Try this basic crepe recipe, which can be used for both sweet and savory crepe recipes.




Crepe-Making Tips and Tools
How to Choose and Care for the Best Crepe Pan.

Looking for a crepe pan? Read our Recommendation for the Best Crepe Pan.

How to Make Crepes in 6 Easy Steps. Whether you're a seasoned professional or just starting to learn all about crepes, we highly recommend that you read this detailed list of instructions—from flipping the crepe to storing them until ready to use.

Want more helpful tips on making crepes? Subscribe to The Crepe Vine, our free monthly newsletter. You'll receive the latest updates from our site, exclusive previews of our recipes, and much, much more. Sign up today and you'll receive a copy of the easiest and most delicious chocolate crepe recipe in the world.

Return from World's Best Crepe Batters to World of Crepes.