Easy Breakfast Recipes for Crepes
Tired of toast and cereal? Want more creative and easy breakfast recipes? Think crepes! These breakfast crepes recipes will make the first meal your favorite meal of the day. Shouldn't every day start out with a scrumptious dish?




Eggs Benedict Crepes. Forget the English muffin! Our eggs benedict recipe for crepes is easy and delicious. It's served over a crepe with melted Swiss cheese and diced ham and topped with our easy hollandaise sauce.


Scrambled Egg Recipes. If you're seeking new scrambled egg recipes or a creative roasted red pepper recipe, you'll want to try these delicious breakfast crepes.


Buckwheat Crepes with Blackberry Preserves. Want a healthier breakfast? Try making our buckwheat crepes and spreading them with your favorite fruit preserves. This recipe also includes directions for making gluten-free crepes.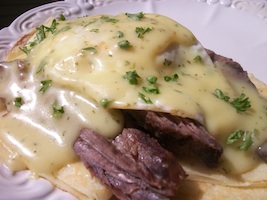 Skirt Steak Recipe. For an elegant breakfast or brunch, try our steak and egg crepes with bearnaise sauce. This recipe includes an easy marinade for skirt steak, a flavorful and versatile cut.




Buttermilk Crepes. If you like the tangy flavor of buttermilk pancakes, you'll want to try our delicious buttermilk crepes. Top them with our blueberry sauce as pictured or our vanilla-maple syrup.


Blueberry Crepes with Lemon Curd. Can't get enough blueberry crepe recipes? Try this easy breakfast recipe that features fresh blueberries on top of a layer of warm, sweet lemon curd, all folded into a delectable crepe.

Wild Berry Crepes.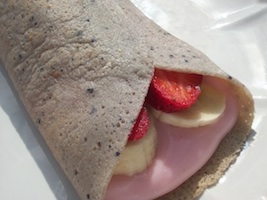 Want a healthier option for your kids? Try our Wild Berry Crepes with Yogurt and Fresh Fruit Filling. These "purple" crepes are fun to make and will make your kitchen smell like blueberry muffins. But these are much healthier!

Huevos Rancheros Recipe.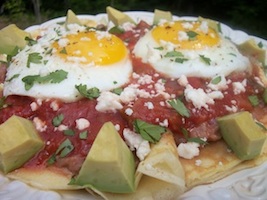 If you're craving a hearty breakfast, you'll want to try this creative twist on a Mexican classic.




Hash Brown Potato Recipe. This hash brown potato recipe for crepes features cheesy hash browns, sausage and peppers smothered in one of the easiest cheese sauces you'll ever make.


Crab Benedict. Seafood for breakfast? Why not! Our crab benedict recipe for crepes is easy and delicious, especially when topped with our easy hollandaise sauce recipe.


Strawberry Treats. Enjoy strawberry desserts? Try these delicious strawberry treats featuring fresh strawberries, strawberry preserves and cream cheese rolled up in crepes.
Crock Pot Oatmeal Recipe. This steel cut oats recipe is perfect for your slow cooker and makes an easy breakfast crepes recipe. Flavored with brown sugar, apples, raisins and cranberries, this recipe is a great way to start your morning.

Want more easy breakfast recipes with crepes? Subscribe to The Crepe Vine, our free monthly newsletter. You'll receive the latest updates from our site, exclusive previews of our recipes, and much, much more. Sign up today and you'll receive a copy of the easiest and most delicious chocolate crepe recipe in the world.
Have A Great Recipe for an Easy Breakfast Crepe? Have a Comment About This Page?
What's your favorite easy breakfast crepe recipe? Share your comment or recipe with us and it could be published on our site.
Contributions from Other Visitors
Click below to see recipes from other visitors to this page...

Return from Easy Breakfast Crepes to World of Crepes.