Easy Crock Pot or Slow Cooker  Recipes
Seeking easy slow cooker recipes? Read along for the best crock pot recipes for your crepes. From breakfast to dinner, we offer a variety of delicious and easy recipes for your crepe fillings.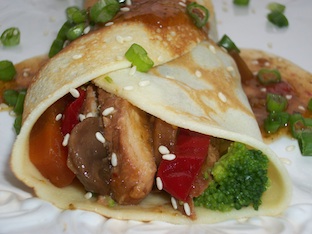 Need a hearty filling recipe for your crepes but you're pressed for time? Let your crock pot do the hard part with these easy slow cooker recipes.
Finish the preparation and leave everything in the slow cooker. You're now free to go to the office or do some other household chores. When you come back, your delicious meal is almost ready to be served - just like magic.

Whip up a fresh batch of crepes and you've got a hot and satisfying dish on the table in minutes!
A crock pot is especially useful for super busy working mums, take advantage of your little in-house servants :-)

Bon Appetit!
Crock Pot Oatmeal Recipe. This steel cut oats recipe is perfect for your slow cooker and makes an easy breakfast crepes recipe. Flavored with brown sugar, apples, raisins and cranberries, this recipe is a great way to start your morning.
Slow Cooker Chicken Recipes. This easy crepe filling recipe will bring notes of Asia into your house with its mixture of vegetables and chicken coated in a sweet and savory sauce.
Easy Swedish Meatball Recipe. Seeking an easy swedish meatball recipe for crepes? Try crockpot swedish meatballs, which can be made ahead or simmer while you enjoy your day.
How to Cook Beef Brisket. This carefree crockpot recipe turns the naturally tough brisket into a tender and succulent roast that makes a delicious crepe filling.
Barbecue Pork Roast in Cornmeal Crepes features tender chunks of pork served in buttery cornmeal crepes. It's a Southerner's dream—hush puppies turned inside out. Now pass the sweet tea!
Return from Easy Slow Cooker Recipes to Homepage
Need a crock pot? Find a wide variety on Amazon.

I love to Pin - Check out my Pinterest Boards