Easy Slow Cooker Recipes - Slow Cooker Crock Pot Recipes
Seeking easy slow cooker recipes? Read along for the best slow cooker recipes for your crepes. From breakfast to dinner, we offer a variety of delicious and easy recipes for your crepe fillings.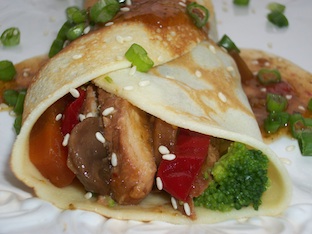 Need a hearty filling recipe for your crepes but you're pressed for time?
Let your crock pot do the hard part with these easy slow cooker recipes.
Whip up a fresh batch of crepes and you've got a hot and satisfying meal on the table in minutes!
Bon Appetit!

Crock Pot Oatmeal Recipe. This steel cut oats recipe is perfect for your slow cooker and makes an easy breakfast crepes recipe. Flavored with brown sugar, apples, raisins and cranberries, this recipe is a great way to start your morning.
Slow Cooker Chicken Recipes. This easy crepe filling recipe will bring notes of Asia into your house with its mixture of vegetables and chicken coated in a sweet and savory sauce.
Easy Swedish Meatball Recipe. Seeking an easy swedish meatball recipe for crepes? Try crockpot swedish meatballs, which can be made ahead or simmer while you enjoy your day.
How to Cook Beef Brisket. This carefree crockpot recipe turns the naturally tough brisket into a tender and succulent roast that makes a delicious crepe filling.
Barbecue Pork Roast in Cornmeal Crepes features tender chunks of pork served in buttery cornmeal crepes. It's a Southerner's dream—hush puppies turned inside out. Now pass the sweet tea!
Want more crepe recipes? Subscribe to The Crepe Vine, our free monthly newsletter. You'll receive the latest updates from our site, exclusive previews of our recipes, and much, much more. Sign up today and you'll receive a copy of the easiest and most delicious chocolate crepe recipe in the world.
Want to make crepes like a pro? Order your copy of The Essential Guide to Crepes, with step-by-step instructions, (including pictures) on how to make the world's best crepes, exclusive recipes, side dishes and tips for an unforgettable crepe party. Tell me more!

Return from Easy Slow Cooker Recipes to World of Crepes.