New Years Day Menus
New Years Recipes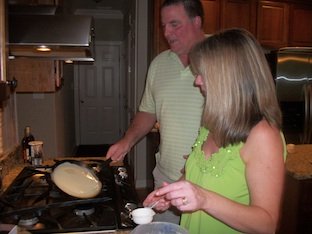 Seeking New Years Day Menus? How about New Years Party Ideas? Think French Crepes Recipes! This page is your one-stop shop for New Years recipes for crepes, tips and strategies for creating the perfect party menu. 

After all of the elaborate holiday dinners you've prepared, why not celebrate the New Year with a menu that is simple and equally delicious?
Everyone enjoys crepes; don't be surprised if your guests want to join in the fun! Here my neighbor George and I take turns at the crepe pan.
From traditional to new-fangled and from savory to sweet, read along for a list of crepe recipes just for the New Year!
Savory Crepes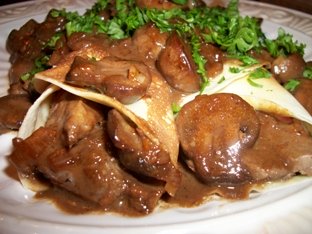 Steak Diane Crepes is a recipe that George actually helped me create.
It's a hearty and delicious crepe filling recipe with steak and a sauce of brandy, mustard, mushrooms and shallots.
This recipe is sure to impress any party guest and a great way to ring in the New Year. 
Hoppin John Crepes will kick off your New Year's Day with peace and prosperity. This easy recipe features black-eyed peas and ham in buttery cornmeal crepes. 
Coq Au Vin Recipe for Crepes. Seeking romantic dinner ideas? Try our chicken crepes recipe for chicken braised in red wine. This recipe is based on the beloved French dish of coq au vin, which started as a peasant meal and is now one of the most popular dishes in France.
Chicken A La King. Savory chicken, peppers and pimentos in an easy sherry cream sauce is a great crepe filling that is as beautiful as it is delicious! It's another one of our easy chicken recipes.
Turkey Potpie Crepes. Bring back the good memories by making this crepes recipe featuring thyme-speckled crepes and the flavor of old fashioned turkey pot pie.
Smoked Salmon Savory Crepes. Want a healthier option? Try this buckwheat crepe (galette) recipe from Gaelle. She recommends serving them along with asparagus.
Asparagus and Mushroom Crepes. Speaking of asparagus, one of my favorite party recipes is this jewel. It features a filling of sautéed fresh mushrooms and asparagus smothered with our swiss cheese sauce.
Spinach and Ricotta Crepes. For another vegetarian option, try these easy and family-pleasing crepes from World of Crepes fan, MankyCat.
Sweet Crepes
Don't forget dessert! All New Years Day menus deserve at least one sweet treat! Your crepe pan is already hot, so why not finish your celebration with a dessert crepe!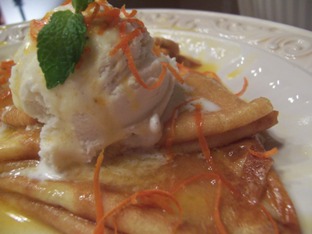 Crepes Suzette. Make a lasting impression on your guests with a classic.
And if you've got fresh tangerines on hand, we recommend our tangerine and honey variation.
Top the crepes with fresh zest and vanilla ice cream for a real show-stopper of a dessert! 

Tiramisu Crepes. Craving chocolate? Make the easy filling ahead of time, and make your chocolate crepes along with your guests. It's like serving an after-dinner cup of coffee, only better!
Hot Fruit Compote Recipe for crepes. Serve this warm and spicy fruit mixture in our festive pistachio crepes for a delicious and impressive dessert.
Banana Nutella Crepes. Make it easy on yourself by serving another French classic that calls for just three ingredients. Or, mix it up, and serve this recipe fried!
How to Throw a Crepe Party. Want more tips on how to throw a crepe party? Read this informative article for more ideas on how to put together an unforgettable crepe party!
We hope that these New Years Day Menus featuring crepes help you usher in a safe and happy holiday. From World of Crepes, we wish you a prosperous and productive New Year!
I love to Pin - Check out my Pinterest Boards