The Best Crepe Pan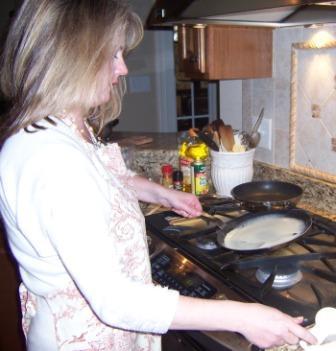 At World of Crepes, we have quite a bit of experience when it comes to recommending the best crepe pan. Although we've never counted, we know we've made thousands of crepes, from our award-winning recipe to quick crepes for our family and friends.
Find out which crepe pan Ashley, the founder and former owner of this website, uses in her kitchen.
A crepe is one most of the most versatile food items on the planet. It's extremely easy and fun to learn how to make crepes.
To feel confident, however, you simply must have a pan that delivers consistent results.
While I have used other pans with success, I highly recommend the De Buyer Crepe Pan that you can see me using in the picture above.

There are more expensive pans out there, which I recommend for heavy users. But if you're making crepes only every other week, then for the money and consistency of results, you simply can't beat the De Buyer.
The De Buyer is made in France, the home of the crepe, and is made entirely of steel so it's virtually indestructible. If needed, you can clean it with steel wool. Because it's made of steel, the maker recommends that you season it. I seasoned mine by simply using it, coating the surface very well with butter or cooking spray for the first few uses.
This pan is also extremely beautiful, with its long and elegant welded handle. It's such a lovely addition to my kitchen that I don't even put it away, instead keeping it on top of my stove, handy for the next batch.

One thing I like most about it, is that it's very lightweight. Some people swear by iron-cast pans, but they're much heavier, which is a strain on your arms if you're not very strong.

Whether you're just starting to make crepes or you want to be a crepe champion, you need the most essential crepe-making tool of all—the De Buyer!
Of course you can use this skillet for much more than just making crepes.
You can even buy two or more of them in different sizes and put them neatly one into another just like in the picture above. That's a great plus if you have a small kitchen. As the De Buyer is not coated inside, there's no danger to scratch it by putting another skillet inside.
Order Your De Buyer Crepe Pan at Amazon
About our affiliates: World of Crepes is honored to partner with select online merchants offering a variety of products to enhance your cooking and dining experience. Each item has been carefully chosen for its quality, usefulness, and value. These merchants pay us a small commission on your purchase, which makes it possible for us to maintain World of Crepes. Thank you for your support. 
Return to Best Crepe Pan Reviews. 
I love to Pin - Check out my Pinterest Boards