Interview with Frederic Lavorel, Master Crepe Maker and Entrepreneur, Part II
Sugar and Spice and Everything Nice...
WOC: Many people in America think of crepes as "fast food" to be eaten on the run while touring big cities such as Paris. At World of Crepes, we believe that crepes deserve to be truly savored. Comments?

FL: Indeed. We are entering a new and exciting era of "fast food" where people expect food that is as healthy and fresh as it is fast.  Crepes are definitely not to be compared with traditional fast food. At Crepes Village, there is the desire for international and regional cuisine and our menu is characterized by its extreme diversity, sugar and spice and everything nice. 
We offer a wide variety of crepes, from traditional fillings such as ham and cheese, spinach, and ratatouille to more exotic fillings such as Thai curry, foie gras, smoked salmon, and prawn. 

We are currently launching a new campaign to broaden the traditional pairing of "crepes and cider." We want to introduce our customers to the idea that wine also pairs perfectly well with crepes. For example, a lovely salmon crepe pairs perfectly with Chardonnay, a crepe of Mexican-style beef with a glass of Malbec,  a suzette with a sparkling wine, a strawberry with a glass of sangria, and so forth.
WOC: A strawberry crepe with sangria, now you're talking! Let's turn to some personal questions, if we may. Do you remember your first crepe? What was it and how old were you?
FL: I don't remember when exactly but in France we start eating crepes at a very young age (3 or 4 years old). My first crepe probably was either a sugar crepe or one with strawberry jam.
WOC: What do you do when you aren't working? From what I've read, you appear to have a passion for sports as well as crepes!
FL: I'm a family man with 3 children aged 5, 6 and 11. My wife is also my business partner and she is the head chef of Crepes Village. I have spent most of my life surrounded by mountains, snow and water, and so, yes, I am a sports fanatic! My other interests include global economies (especially the Asia-Pacific market), global trends and issues such as global warming and the rise of virtual world.
I am also interested by people, ideas, developments and organizations that can shape the future, i.e, the 2020 global landscape. I have recently expanded my horizons and interest in entrepreneurship by launching a new consulting company, Bizkado.
WOC: What do you think about World of Crepes? Any advice for our website?
FL: Thank you so much for what you do and for sharing your passion for crepes with the world! The content of your website, style and substance are really good. Professional and amateur crepe makers will find everything they want to know about making crepes.
I think it would be great to eventually offer separate pages for professionals and amateurs, just to improve guidance. Any plans to post some nutritional facts, introducing crepes as a healthy alternatives to fast food?
WOC: What a wonderful idea! Those of us who enjoy crepes often overlook the nutritional side! And now, for our favorite question. As we ask all of our friends, if you had to choose ONE, what is the best crepe filling in the world?
FL: The vast combination of crepe fillings has not yet been explored completely, and as I said before, there are infinite combinations. I personally like both savory and dessert crepes but I always go for the naturally fresh taste. I don't like my crepes overfilled with too many ingredients.
I am a particular fan of the sweet-salty combination with a spicy twist. I really appreciate crepes with sugar and lime, ham, egg, and cheese, smoked salmon and cream, thai green curry chicken, homemade apple or strawberry marmalade. I'm quite fond of our most recent gastronomic creation: "Pan-seared Foie Gras served on bed of eggplant and mango sauce. Crepes served with eggplant puree, black pepper and mint."
WOC: Thank you, Mr. Lavorel, for your time and your unique perspective on this fascinating subject. Anything else you'd like to add?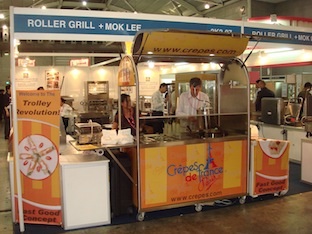 FL: We recently returned from FHA 2010, Asia's largest international food and hospitality trade exhibition. There we had the pleasure of unveiling the first Crepe Trolley in all stainless steel. It's completely self-sufficient and is equipped with one crepe griddle and a large door-refrigerated cabinet. The cooling system and lighting run without any external source of energy, thanks to the eutectic plates. The lithium battery requires only 5 hours of charge for up to 20 hours of self sufficiency. This trolley is fitted for a gas-powered crepe maker but can be equipped with other cooking equipment as needed. 

For more information, visit the websites for Crepes de France. 
Return to Lavorel Interview, Part I. 
I love to Pin - Check out my Pinterest Boards