Turkey Enchiladas with Spinach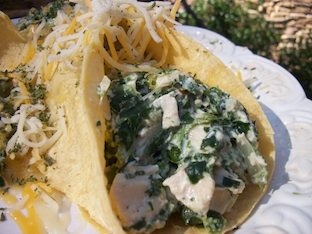 Seeking recipes for leftover turkey? Try these easy turkey enchiladas with spinach! They're made with our delicious cornmeal crepes and feature a splash of lime juice and fresh cilantro.

Take your leftover turkey south of the border with these easy turkey spinach enchiladas!
You've love the creamy sauce and tex-mex flavor!
Pass the margaritas!


Ingredients:
2½ cups shredded leftover turkey, cooked
2 tbsp of butter
1 small onion, diced
3 cloves of garlic, minced
½ cup of white wine or chicken broth
10 oz. pack of frozen spinach, defrosted and drained
½ tsp of seasoned salt
¼ cup of lime juice
2 ½ cups of sour cream
½ cup of minced fresh cilantro
1 cup of Mexican blend shredded cheese
1-2 tbsp of milk
Preheat oven to 350 degrees. Saute onions in butter until softened. Add garlic and cook an additional minute. Stir in wine (or broth) and lime juice. Add spinach and stir together until liquid evaporates. Reduce heat and stir in sour cream and turkey. Add seasoned salt and cilantro.

Assemble crepes: Lay first crepe across serving platter. Spoon ⅓ cup of turkey-spinach mixture in the middle of the crepe and roll up. Lay first crepe in a greased casserole dish and repeat with remaining crepes. Sprinkle cheese over the top of crepes and and place dish in the oven. Cook for 20 minutes or until cheese melts and is golden brown. Serve immediately.
I love to Pin - Check out my Pinterest Boards