Beef Burgundy Crepes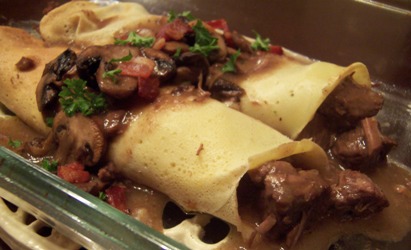 Beef burgundy crepes with red wine sauce will be the most requested recipe of all your dinner party menus. The two main steps—the beef burgundy filling and basic crepes—can be made the day before, giving you plenty of time to set the table and arrange the flowers!



Ingredients:

2 lbs. stew beef, ½ inch cubes
6 oz. bacon
1 large sweet onion, chopped
3 cups full-bodied red wine like a good cabernet sauvignon or burgundy
3 cups beef broth
3-5 tbsp of olive oil
3-4 tbsp of butter
3 tbsp of all purpose flour
½ tsp coarse black pepper
3 tbsp fresh chopped parsley or 1½ tbsp dried parsley
1 bay leaf
½ tsp sugar
1 lb. fresh button mushrooms (sliced)
½ tsp of orange zest
Directions:
Cook bacon on medium heat until crisp, reserving 3-4 tbsp of fat. Set aside the bacon and drain. Crumble bacon and save for garnish. Next, brown beef stew in bacon drippings and set aside. Sauté onion using as much oil as needed, continue cooking until the onion is caramelized adding sugar, which will help caramelize the onion.

Add the onions, zest, broth and wine as well as the beef, pepper, and the bay leaf to a 6-8 quart stockpot. Simmer for 2 ½ to 3 ½ hrs on low heat. The beef should be tender and the liquid should be reduced by one-half. Sauté flour and butter on medium heat until thoroughly mixed. Add enough of this mixture to thicken the stew. Then remove from heat. Sauté mushrooms on medium heat until golden brown and set aside.

Using an oiled 9" by 13" casserole dish, place 8 crepes with beef mixture inside, each one rolled up with some of the sauce on top. They should be arranged side by side. Heat in the oven at 350 degrees until edges of crepes begin to brown (about 10 minutes). Serve 2 crepes per person with mushrooms, crumbled bacon and a little parsley on top. Your kitchen will smell wonderful, and you'll be transported back to old world France!

Yield: 4 servings (2 crepe rolls each)

>

Return from Beef Burgundy Crepes to Crepe Recipes