Basic Crepe Batter Recipe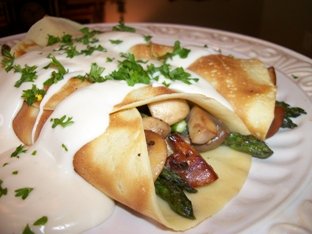 This fool-proof crepe batter is your go-to recipe for all types of crepes, from elegant main dish crepes to easy dessert crepes.
It's the first batter you should know by heart, because it will serve you over and over again. Once you're proficient with this simple basic recipe, try any of our more advanced batter recipes with herbs, spices, chocolate, etc.
Ingredients:

¾ cup of all-purpose flour
1 tbsp of melted butter
1¼ cups of skim milk
2 eggs
¾ tsp of salt
Yield: 10 8-inch or 12 6-inch crepes


Combine all ingredients into a blender and mix until well-blended. You may also combine them by hand. If combining by hand, mix the eggs and milk separately and combine slowly with the dry ingredients.
Mix in the melted butter last.
Important: Refrigerate the batter for at least 30 minutes. This gives the batter the opportunity to rest and fully come together.
Easy as pie, right? Once you have done it once, you'll already be a pro. The batter is really one of the easiest things, the flipping and baking in a sauce pan is the harder part.
But don't worry, we are here to help you with that too.
How To Make Crepes in 6 Easy Steps.
Now that you've made your batter, we highly recommend that you read this detailed list of instructions—from flipping the crepe to storing them until ready to use.
Looking for a crepe pan? Read our Recommendation for the Best Crepe Pan.
Return to More Sophisticated Batter Recipes.
I love to Pin - Check out my Pinterest Boards