Crab Benedict Recipe for Crepes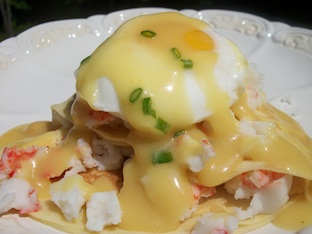 Seafood for breakfast? Why not! Our crab benedict recipe for crepes is easy and delicious, especially when topped with our easy hollandaise sauce recipe.
I love seafood and while you might not be up to it on a weekday at 6 am in the morning, you'll definitely enjoy this yummy crepe as a wonderful brunch with that air of luxury that crab meat has.
Ingredients:
4 eggs
1 cup of cooked crab meat, crumbled
salt and pepper to taste
fresh chives, chopped
Instructions:

Poach eggs by pouring each one into a skillet filled with simmering water (brought to a boil and then reduced to a simmer). Do this slowly by first breaking each egg into a small, tempered bowl and slowly pouring the egg into the simmering water.
Swirl the egg white with a fork over the yolk so that it doesn't float away. After all of the eggs are placed in the water, let simmer for 6 minutes, or until yolks are cooked to your preference.
Meanwhile, make your hollandaise sauce. Keep it warm by placing it in a double boiler over a saucepan of hot water.
Assemble crepes:
You may begin with freshly made crepes or crepes that have been made in advance and warmed. Lay first crepe flat. Spread half of the crepe with ¼ cup of crab meat. Fold in half and then once more, into a triangle. Repeat with remaining crepes.
Remove your cooked eggs from the water and drain on a paper towel. Blot the tops to remove the excess moisture. Place one egg on top of each crepe and top with 2 tablespoons of warm hollandaise sauce. Season with salt and pepper; garnish with 1 tsp of chives and serve immediately.
Side Note:
Make sure to buy real crab meat. The stuff you usually get at the supermarket is called surimi and is not the real thing. Surimi was originally invented in Japan almost 1000 years ago to conserve fish and crab meat.
But nowadays the food industry has taken on the Surimi and made a product out of it, that's less than desirable. It usually doesn't contain any crab meat at all, but mostly fish that cannot be sold directly (because it's too tasteless). Enhance that with sugar, salt, preservatives, artificial colors and flavors and you have a product that looks like the real thing, but isn't.

Return to Easy Breakfast Crepes

Return to Home
I love to Pin - Check out my Pinterest Boards