How to Make Roasted Garlic
Enjoy garlic recipes? Learn how to make roasted garlic in two easy steps! You've never had garlic so good. This savory ingredient makes a delicious addition to your favorite crepe batter recipe.

Step 1 — Season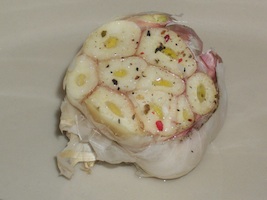 First, preheat oven to 400 degrees. Next, shear off the top of an unpeeled head of garlic, exposing as much of each clove as possible.
Pour olive oil (about 2 tsps per head) over the cloves, letting it slowly seep inside each clove. Sprinkle with salt and pepper. 
Step 2 — Roast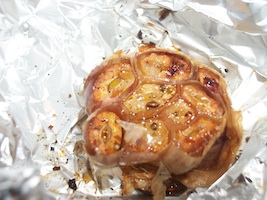 Keeping garlic upright, wrap it loosely in tin foil and place inside a casserole dish.
Roast for 1 hour, until cloves turn golden brown and begin to pull away from the skins.
Let it cool until easy to handle. 

Extract the garlic by gently squeezing from the end. Each clove will have rendered into a smooth, delectable paste that is ready to be added to your favorite sauces, dressings or dips. 
How to Make Roasted Garlic Crepes
Want to make roasted garlic crepes? Simply add one head of roasted garlic (6-8 medium cloves) to your savory crepe batter recipe.

Next, make crepes according to directions in How to Make Crepes. 

Finally, fill them with your favorite crepe filling recipe. We recommend sun-dried tomatoes, onions and melted swiss cheese, as pictured!
Return to Easy Vegetable Recipes. 

Return to Home. 

I love to Pin - Check out my Pinterest Boards