French Crepes Recipes - Popular French Foods
French crepes recipes are an easy french food to make. They're also one of the most popular french foods across the world. Read along for our favorite recipes inspired by France, the official home of the crepe.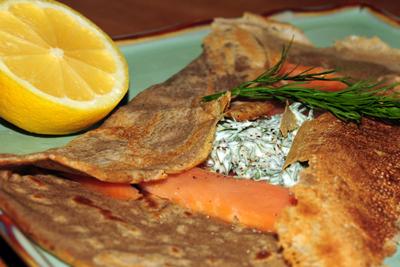 In France, there are two types of crepes, savory and sweet.
Savory crepes, like the smoked salmon crepe to the left, are made with buckwheat flour and are called galettes.
Read along for a list of our favorite savory crepes.
Savory French Crepe Recipes
Classic Crepes Suzette Recipe.
This easy orange dessert may be the world's most famous french dessert. In our classic recipe, we include a garnish of fresh orange and a scoop of creamy vanilla ice cream.
Sweet French Crepe Recipes
Want more french recipes? Check out French Recipes Desserts.
Want more crepe recipes? Subscribe to The Crepe Vine, our free monthly newsletter. You'll receive the latest updates from our site, exclusive previews of our recipes, and much, much more. Sign up today and you'll receive a copy of the easiest and most delicious chocolate crepe recipe in the world.
Want to make crepes like a pro? Order your copy of The Essential Guide to Crepes, with step-by-step instructions, (including pictures) on how to make the world's best crepes, exclusive recipes, side dishes and tips for an unforgettable crepe party. Tell me more!
Return from French Crepes Recipes to World of Crepes.