Best Crepe Recipe in the World? 
Tell Us About It!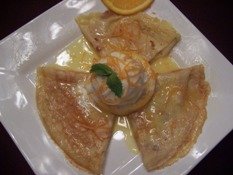 Everyone has an opinion, and we'd like to know yours! What is the absolute best crepe recipe in the world? 

Several crepes would make my top ten list, including old standbys like our beef burgundy and banana nutella crepes.
And then there's newcomers like our chicken and artichoke recipe and spiced peaches over lacy crepes. The list goes on.
However, if I absolutely had to choose ONE crepe recipe that I couldn't live without, it would have to be crepes suzette (pictured above).
It's a dessert crepe, true, but I could eat it for dinner every single night of my life.
But that's just my opinion. And I'm more than a little biased. 

But we'd love to hear from you! If you were offered any crepe recipe as your last meal on earth, which crepe would you most want to have and why?
While complete recipes are welcome, please bear in mind that you don't have to list detailed directions. Just provide a few of the key ingredients. It's the experience of enjoying the crepe that we'd most like to hear about!
And if you'd prefer just to second someone else's vote or simply comment on another contribution, that's great, too.
Above all, let's just have fun!
What is the Best Crepe Recipe in the World?
Don't be shy! Share your thoughts on the best crepe recipe in the world. Tell us if you made it yourself or where you had it and why you think it's the best crepe recipe in the world. And if you just want to second or comment on someone else's vote, that's fine, too!
What Other Visitors Have Said
Click below to see contributions from other visitors to this page...

I love to Pin - Check out my Pinterest Boards